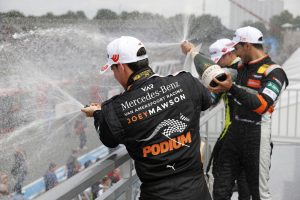 Australian Joey Mawson is ready for the next challenge in the FIA Formula 3 European Championship at the Spa-Francorchamps circuit in Belgium.
The PODIUM-backed driver believes previous success of the Van Amersfoort Racing team at the venue should bode well for this week's event.
"We had a test day at the circuit on Tuesday, which was soaking wet all day so it was very difficult to get a really good gauge.  The team has enjoyed success here in the past so there's no reason why we can't have a good round this weekend," said Mawson.
"The weather conditions for the weekend are expected to be a mixed bag so we've really got to be on top of the set-up when it matters most.
"The circuit is just so cool. No matter what you are driving around here you really enjoy it and I can't wait to get on track on Thursday."
After a challenging couple of rounds to start his championship campaign, Mawson has shown impressive speed during the recent rounds and is aiming to continue this momentum this weekend.
"Over the past couple of rounds we've shown some good speed and we're right on the verge of some really good results. In the short break everyone in the team has been working very hard on continuing the progress and hopefully I can reward them with a podium this weekend," said Mawson.
Mawson competed at Spa-Francorchamps during his 2015 German Formula 4 campaign where he finished second behind Lando Norris in the final race.
With this weekend's racing being contested alongside the 24 hours of Spa GT race, practice will begin on Thursday morning ahead of two qualifying sessions in the afternoon. Races one and two will be contested on Friday before the action for the Formula 3 drivers concludes on Saturday.
WEEKEND SCHEDULE
LOCAL TIME
Thursday July 27
9:00am – 9:40am Free Practice
9:45am – 10:25am Free Practice 2
1:30pm – 1:50pm Qualifying 1
5:10pm – 5:30pm Qualifying 2/3
Friday July 28
12:15pm – 12:50pm Race 1
3:40pm – 4:15pm Race 2
Saturday July 29
12:40pm – 1:15pm Race 3
AUSTRALIAN EASTERN STANDARD TIME
Thursday July 27
5:00pm – 5:40pm Free Practice 1
5:45pm – 6:25pm Free Practice 2
8:30pm – 8:50pm Qualifying 1
1:10am(Fri) – 1:30am Qualifying 2/3
Friday July 28
8:15pm – 8:50pm Race 1
11:40pm – 12:15am Race 2
Saturday July 29
8:40pm – 9:15pm Race 3