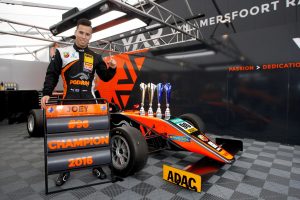 Australian Joey Mawson will take the next step towards the pinnacle of world motorsport in 2017.
After claiming the ADAC German Formula 4 Championship last year ahead of Mick Schumacher, the PODIUM-backed driver will remain with his title-winning team Van Amersfoort Racing for the 2017 FIA European Formula 3 Championship.
The 10-round championship has been the springboard for many of the modern-day Formula 1 drivers, none more so than 2016 Champion Lance Stroll who will join the Williams Formula 1 team in 2017.
2015 Champion Felix Rosenqvist has graduated into the Formula E Championship while the previous year's Champion Esteban Ocon, who defeated current Red Bull Formula One driver Max Verstappen on his way to the championship, will compete in the 2017 Formula 1 World Championship with Force India.
Mawson is continuing to aim to follow in the footsteps of fellow Australian Daniel Ricciardo who climbed through the European open-wheel scene before breaking through into the Formula 1 ranks.
For Mawson, the opportunity to remain with the Van Amersfoort team to take the next step in his career is a very exciting one.
"This will be my third year with Van Amersfoort and I'm really excited about the adventure of moving into Formula 3 with them," said Mawson.
"To win the Championship last year with them and the team at PODIUM was a real dream come true, that was our aim at the start of the year and we achieved everything that we set out to do.
"Now, it's the next big step in my career.  It's a very big step from Formula 4 to Formula 3 but one that I'm really looking forward to.
"I've tested a couple of times late last year and felt right at home.  I'll be aiming to make the most of every opportunity in 2017 and beyond."
Van Amersfoort Racing Team Principal Frits van Amersfoort is delighted to have Mawson remain with his team for a third consecutive year.
"In the past two seasons, and especially with his title-winning campaign last year, Joey has clearly demonstrated his abilities and I am convinced that, given the right support, he has what it takes to do well in Formula 3," said van Amersfoort.
"In making the transition from Formula 4 to Formula 3 together with us, he is following in the footsteps of other drivers who made the same step in the past.
"This Van Amersfoort Racing single-seater staircase is what we had in mind when we committed to racing in various junior formulae. We believe in long-term relationships and therefore, we are delighted to have Joey continue with us."
Mawson will continue to be backed by the Australian consortium PODIUM, who supported him during his successful 2016 campaign.
Mawson will head back to Europe in the coming weeks before the Formula 3 Championship begins on April 14 at the famous Silverstone circuit in England alongside a round of the World Endurance Championship.
2017 Formula 3 European Championship Schedule
14 – 16 April Silverstone (Great Britain) [WEC]
29 – 30 April Monza (Italy) [WTCC]
20 – 21 May Pau (France) [F3 GP]
17 – 18 June Hungaroring (Hungary) [DTM]
1 – 2 July Norisring (Germany) [DTM]
28 – 29 July Spa-Francorchamps (Belgium) [Blancpain GT Series]
19 – 20 August Zandvoort (The Netherlands) [DTM]
9 – 10 September Nürburgring (Germany) [DTM]
23 – 24 September Red Bull Ring – Spielberg (Austria) [DTM]
14 – 15 October Hockenheim (Germany) [DTM]