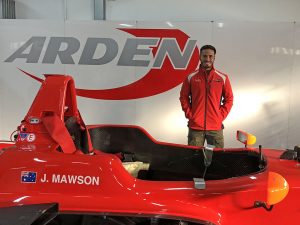 Australian Joey Mawson will continue his impressive rise through the world motorsport ranks in 2018.
With the continued support of PODIUM, the Sydney native will join the highly successful Arden Motorsport outfit to make the step up into the GP3 Championship. His 2018 campaign will begin on May 11-13 at Barcelona in Spain.
The nine-round Championship is held alongside the Formula One World Championship at selected European events before it concludes in the United Arab Emirates on November 23-25.
For Mawson, the opportunity to compete at the same events as the highest level of motorsport in the world is an exciting one.
"I'm very excited to be joining such a highly regarded team in Arden Motorsport for the 2018 GP3 season. To be able to race on the same schedule as Formula One is something that I'm thoroughly looking forward to," said Mawson.
"This opportunity is one that has come about pretty quickly over the past few weeks. I can't thank everyone that is involved with PODIUM enough, they all have a huge amount of belief in me. I'm looking forward to repaying them with success on the biggest stage in the world of motorsport."
Mawson believes that having contested the FIA Formula 3 European Championship in 2017 will provide him with a perfect springboard to be able to showcase his talent this year.
"Last year was very much a learning year for me. It was a tough one having come off winning the German F4 Championship and then making the big step into F3," said Mawson.
"I'm very grateful for the experience of last year and thankful to everyone who helped me. Now I'm focused on putting everything that I learnt into practice to assist me in gaining more success in 2018."
Mawson has joined the Arden Motorsport team this week as a part of the Official GP3 Test Days at the Paul Ricard Circuit in France.