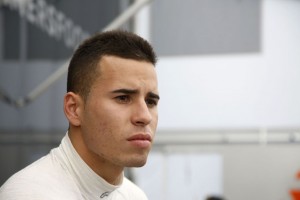 Australian Joey Mawson will be out to continue his stellar start to the 2016 ADAC German Formula 4 Championship when he takes to the Sachsenring circuit this weekend.
The PODIUM-backed driver currently sits 17 points clear at the top of the standings with his eyes focused on more podium results aboard his Van Amersfoort Racing entry.
"I'm still coming off a high after the first round, which has really given me a lot of confidence but at the end of the day you're only as good as your last race so I've got to continue that form this weekend," said Mawson.
"There is a great vibe around the place at the factory and everyone has been doing a fantastic job preparing some reliable and fast cars.  From my side I need to make sure that I get the best out of the set-up and reward everyone for their hard work."
Mawson is encouraged by a solid test day at the Sachsenring circuit recently and last year's victory in the final race at the corresponding round adds further confidence.
"We had a very good test day there but when it comes down to it if you're not fast on the race weekend the testing speed doesn't count for much," said Mawson.
"The circuit itself is quite a bit different to Oschersleben, it has a mix of low speed technical corners but there's also some high speed fast corners that require you to be very brave.
"My objective is to take each race as it comes rather than focus on the Championship.  I hope to be up on the podium and maximise the potential results in each race."
Mawson will take to the circuit on Friday morning for the first of two practice sessions ahead of qualifying late in the afternoon.  The driver's fastest time in qualifying decides the grid for race one and second fastest for race two.  The finishing positions in the opening 30-minute race decide the grid for Sunday's race three, with the top ten being reversed.