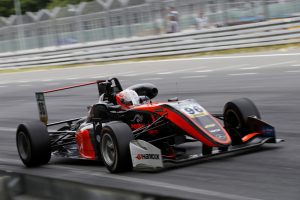 Australian Joey Mawson fought gallantly throughout the fifth event in the 2017 FIA European Formula 3 Championship at the Norisring Street Circuit in Germany.
On Friday the PODIUM-backed driver qualified eighth fastest on the challenging 2.3km circuit before making a good start in the opening encounter.
While holding down seventh position he was hit in the back by Jehan Daruvala in the chicane. The contact pushed him wide into the wall on the exit ending his race with damage to the car.
After some repair work by his Van Amersfoort Racing crew, Mawson returned to the circuit for the second qualifying session, which decided the grids for Races Two and Three. Unable to extract the maximum speed out of the car, Mawson qualified 16th and 15th. Such is the competitiveness of the category, a mere half a second covered the entire field.
In Race Two Mawson got another good start and during the first few laps moved up to 13th place. He would hold this position until the chequered flag.
With plenty of action around him, Mawson was forced to take evasive action on a number of occasions during the opening few laps of Race Three. Despite this, he continued to fight hard and move up the order before passing Guanyu Zhou on the last lap to finish 11th.
Mawson said "The weekend once again taught me a lot. It was good to finish strongly in Race Three to move up the order."
"It was disappointing to crash out of Race One when I was well inside the top ten and then we had to continually fight to get on top of everything from there.
"I had some good speed in the final two races but it was very difficult from being so far back on the grid to get a good result."
Mawson's next race will be at the Spa-Francorchamps circuit in Belgium on July 27-29.
CHAMPIONSHIP STANDINGS (After Round 5 of 10)
1. Maximilian Günther – 236
2. Joel Eriksson – 202 points
3. Lando Norris – 198
4. Callum Illott – 166
5. Jehan Daruvala – 106
6. Jake Hughes – 88
7. Guanyu Zhou – 84
8. Ralf Aron – 70
9. Harrison Newey – 67
10. Ferdinand Habsburg – 56
14. Joey Mawson – 36