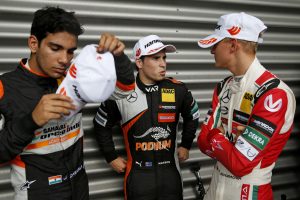 Australian Joey Mawson secured three finishes inside the top ten at Round Six of the FIA Formula 3 European Championship in Belgium.
Competing at the famous Spa-Francorchamps circuit, the PODIUM-backed driver once again showed his racecraft in each of his three races.
After a challenging two qualifying sessions, Mawson found himself starting outside of the top ten for all three encounters. Mawson fought gallantly to move his way up the order in each race.
Race One was the highlight for the Sydney-sider, having charged forward from his 11th placing on the starting grid, to record a fifth placed result at the chequered flag.
Mawson also moved forward in the remaining two races of the highly-competitive championship around the 7.004km circuit. In Race Two he was engaged in a close battle with Mick Schumacher, before crossing the line 10th. After being pushed wide in the opening laps of the final race and dropping several spots, Mawson fought back to again record a finish inside the championship points in 10th place.
"It has been a solid weekend at Spa, to have three top ten finishes was a real positive," said Mawson.
"It was amazing to drive at Spa-Francorchamps in these cars, nice to be able to tackle some of the most famous corners in the world of motorsport.
"Race One was the highlight, after qualifying we didn't expect that we'd be able to move up so much so it was very pleasing.
"Races two and three we struggled with pace and straight line speed, which made overtaking very difficult as I couldn't take advantage of the slipstream, but I still managed to move forward and collect some points.
"Overall it was a solid weekend with three points scoring finishes and two podiums in the Rookies Championship. We'll now put our heads down and aim for the continual improvement as we always do and continue to aim for the front."
British driver Lando Norris, who will next week test with the McLaren Formula One team, won two races with Austrian Ferdinand Habsburg winning the other.
The next round in the Championship will be contested at the Zandvoort circuit in the Netherlands on August 18-20.