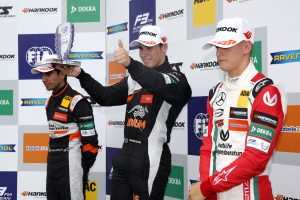 Australian Joey Mawson will head to the Norisring Street Circuit high in confidence for Round Five of the 2017 FIA European Formula 3 Championship this weekend.
Fresh from a season's best result at the previous round, the PODIUM-backed driver believes the tight confines of the 2.3km circuit should suit both the characteristics of his driving style and the Van Amersfoort Racing team.
"I really enjoy racing on street circuits and this is another challenge that I'm really looking forward to," said Mawson.
"The team have shown over the years that they have had some good results on street circuits and hopefully I can continue this trend across the weekend."
While a relatively simple layout on paper, Mawson believes that the Norisring is a very tricky one.
"The track itself looks like it's just four corners, two of which are hairpins, but it's a lot more than that. The long straights make it a very low down force track, probably less than Monza, but that can also affect the way the car handles in the corners," said Mawson.
"There's quite a few bumps in the braking areas so making sure that the car is settled into those areas is going to be critical to a good lap time.
"While I haven't raced there before I've done quite a few laps in the simulator to prepare for the weekend and can't wait to get on track this Friday."
For the second consecutive round, the FIA European Formula 3 Championship is being contested on the same schedule as the DTM Championship. Mawson will take to the circuit for the first time on Friday morning for practice ahead of qualifying in the afternoon. Race 1 will be contested on Saturday before qualifying for Sunday's two races will be contested from 4:25pm.
WEEKEND SCHEDULE
LOCAL TIME
Friday June 30
11:55am – 12:35pm Free Practice
12:40pm – 1:20pm Free Practice 2
5:50pm – 6:10pm Qualifying 1
Saturday July 1
11:10am – 11:45am Race 1
4:25pm – 4:45pm Qualifying 2/3
Sunday July 2
9:10am – 9:45am Race 2
2:50pm – 3:25pm Race 3
AUSTRALIAN EASTERN STANDARD TIME
Friday June 30
7:55pm – 8:35pm Free Practice 1
8:40pm – 9:20pm Free Practice 2
1:50am(Sat) – 2:10am Qualifying 1
Saturday July 1
7:10pm – 7:45pm Race 1
12:25am(Sun) – 12:45am Qualifying 2/3
Sunday July 2
5:10pm – 5:45pm Race 2
10:50pm – 11:25am Race 3