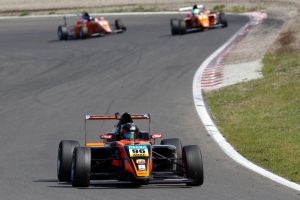 Australian Joey Mawson takes a 39-point lead into this weekend's final round of the 2016 ADAC German Formula 4 Championship at the famous Hockenheim circuit.
While the PODIUM-backed driver has led the way in the Championship all throughout the year, he is very aware that the job is far from being complete with Mick Schumacher lurking in second place in the standings.
"I've had a really good year so far but there's still two practice sessions, one qualifying session and three races to go before the Champion is crowned," said Mawson, who has won eight of the 21 races so far in 2016.
"I've really got to be on top of my game and can't afford to slip up once. It's 100% focus from here until Sunday night."
Mawson, along with the rest of the Formula 4 contenders, took to the Hockenheimring this morning (Thursday) as a part of an official test day before the official proceedings for the final round kick off tomorrow.
"Hockenheim is a really cool circuit, it's got a great amount of history and is one of the most challenging that we go to in the Championship," said Mawson.
"I like the track, especially the fast corners. It offers good overtaking opportunities, and there will certainly be some great scraps out there.
"Having the extra laps today is very good and will allow us to try a few things before practice starts tomorrow.
"I'll be taking the same attitude into this weekend as what I have been all year. Take one session at a time, do my best and the points will take care of themselves. It's worked so far this year, hopefully it will work again this weekend and I'll end up as Champion."
In simple terms, the equation for Mawson to become Champion is that if Schumacher was to win every race and Mawson finish fifth or better the title is the Australian's.
Mawson will take to the circuit on Friday morning for two practice sessions ahead of qualifying in the afternoon. The driver's fastest time in qualifying decides the grid for race one and second fastest for race two. The finishing positions in the opening 30-minute race decide the grid for Sunday afternoon's race three, with the top ten being reversed.
WEEKEND SCHEDULE
LOCAL TIME
Friday September 30
9:00am Practice 1
10:45am Practice 2
1:55pm Qualifying Group A
2:20pm Qualifying Group B
Saturday October 1
9:05am Qualifying Race
12:00pm Race 1
3:35pm Race 2
Sunday October 2
3:00pm Race 3
AUSTRALIAN TIME
Friday September 30
5:00pm Practice 1
6:45pm Practice 2
9:55pm Qualifying Group A
10:20pm Qualifying Group B
Saturday October 1
5:05pm Qualifying Race
8:00pm Race 1
11:35pm Race 2
Sunday October 2
12:00am (Monday) Race 3
(inc. daylight savings)