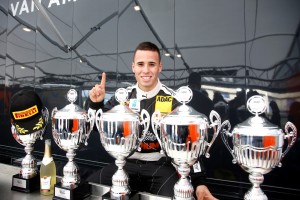 Born in Camperdown, Sydney in 1996, Joseph is one person who can only be described as a natural born racer.  'Joey' as many know him, is of Australian and Peruvian decent, and is one who is strongly focussed on his passion for motorsport.  Racing motorbikes since he was five years old and switching to karts at age seven, Joey has already won an impressive three National and 19 State Championships in Australia
In 2010 Joey was voted the number one driver by every motorsport media outlet in Australia.  In 2011 and 2012 Joey continued to dominate in top level karting by winning Australia's Rotax Pro Tour and then then Rotax Max Challenge Grand Finals in the United Arab Emirates where he finished second.  In 2012 he was the outright winner of the Bahrain round of the CIK-FIA Under 18 World Championship, his final ranking that year was fourth in the world.
In 2014 Joey made the step up to car racing in the 'wings and slicks' category of Formula 4 in France where he qualified on pole position and won his very first car race.  He continued to feature in the results with a further three race wins and eight podium finishes.
In 2015 Joey joined the Van Amersfoort Racing team to compete in the German FIA Formula 4 Championship where he won five races and finished on the podium 13 times, even though this was his first year racing on these circuits.
For 2016 Joey again joined Van Amersfoort Racing for a second season in FIA Formula 4 and was successful in taking the title two races before the end of the championship.  The German championship is the most competitive of its kind in the world with 40 entrants.
Despite racing being his core focus, and having also taken some of his social time, Joey is a fan of the beach, and also reading, ensuring he is physically and mentally prepared for anything he faces not only on the track but in a daily life perspective.
Nationality: Australian
Home Town: Hinchinbrook, NSW, Australia
Motorsport Debut: October 2003 in karting
Current Category: FIA F3 European Championship
Race Number: 96