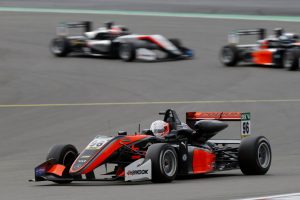 Australian Joey Mawson has secured his maiden podium in the 2017 FIA European Formula 3 Championship at the Nürburgring in Germany.
The highlight for the PODIUM-backed driver came in the opening race of the weekend that started in very wet conditions.
After starting from eighth position on the grid, Mawson scythed his way up the order to be in fourth place during the opening laps.
He then passed Callum Ilott for third place, but as the circuit began to dry, Mawson didn't quite have the pace of his rivals that were challenging from behind. Determined not to let his first podium slip from his grasp, Mawson fought gallantly over the closing stages to hold on and finish third.
Race Two was a lonely one for Mawson. After battling with his Van Amersfoort Racing team-mate Harrison Newey on the opening lap, Mawson slotted into seventh place.
With no challenges from behind, and unable to close in on sixth, he maintained this position until the chequered flag.
After once again starting from eighth position Mawson emerged from the opening lap of the final race in fourth.
Moments later Tadasuke Makino hit Mawson's right rear wheel giving him a puncture, just as the safety car was deployed for two cars in the gravel. Mawson had to pit to replace the wheel putting him to the back of the queue behind the safety car.
He proceeded to work his way up the field from 20th and by lap 8, he was up to 15th behind Pedro Piquet and Mick Schumacher. While they were squabbling for position, Mawson passed them both before chasing down David Beckmann over the remaining laps.
On the penultimate lap, he saw an opportunity to pass but they touched causing damage to Mawson's front wing, ending his race.
"We started the weekend off with an absolute high.  It was such a big relief. I was so happy for the team, everyone at PODIUM, along with everyone who has supported me throughout the year," said Mawson.
"After my maiden podium in Race One, I had a satisfactory run in Race Two where seventh was the best I could do.
"In Race Three it was really unfortunate.  I was in fourth position on the opening lap and Makino slid into me and I got a puncture which meant that I had to pit.  After pitting I drove through the pack but unfortunately I got caught up in an incident that put me out of the race.
"The weekend was very positive, I really felt that I made a big step forward.  I look forward to finishing the year off with a bit of spark and getting some good results over the remaining six races."
Lando Norris won two of the three races at the Nürburgring with Jake Hughes claiming the other.
Mawson's next event will be at the Red Bull Ring in Austria on September 23-24.