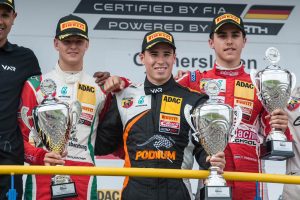 Australian Joey Mawson secured a pair of victories at Round Four of the 2016 ADAC German Formula 4 Championship at the Motorsport Arena in Oschersleben across the weekend.
The PODIUM-backed driver charged down the leaders in the opening race from his third starting position to claim the win ahead of polesitter Thomas Preining and Mick Schumacher.
Mawson then started on pole position for race two alongside Schumacher and jumped into the lead from the start of the race. The Van Amersfoort Racing driver edged away from his championship rival during the early laps before maintaining a buffer of one second for the remainder of the 30-minute race.
In final race of the weekend, where the grid is set by reversing the top finishers from race one, Mawson was boxed in through turn two when all the cars were bunched up and slipped back to 12th place. As Mawson was making his way forward he was alongside Jannes Fittje going into turn three, they touched in the corner and Mawson's front right wishbone was broken putting an end to his race.
"I had quite a good weekend, the last race didn't quite go to plan but overall it was a very solid weekend. I came into the weekend with a three point lead and leave it with a 20-point lead," said Mawson.
"Oschersleben seems to be a special place for us, we've always had a quick car there.
"I didn't get the best of starts in race three, and then got caught up in the middle of the pack before I came together with Fittje as I was making my way forward. Unfortunately the stewards have deemed the incident to be my fault so I have a 10 place grid penalty for race one at the Red Bull Ring.
"Overall everything is very positive and I'm leading the championship at halfway, now I look forward to a big second half of the year."
Mawson now leads the Championship on 202 points, 20 clear of Schumacher in second with Kim Luis Schramm third on 125. The next round will be contested at the Red Bull Ring on July 22-24.