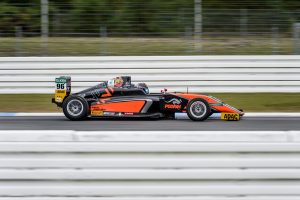 Australian Joey Mawson will make his debut on English soil when he competes in the British Formula 3 Autumn Trophy event at the Snetterton circuit this weekend.
The recently crowned 2016 German Formula 4 Champion will join the Douglas Motorsport outfit in a one-off appearance. He fills the seat that has been held by Thomas Randle throughout the year while his fellow Australian competes in an event in Spain.
The PODIUM-backed driver who won ten races on route to the German Championship is excited about the opportunity to compete in England this weekend.
"The opportunity came as a bit of a surprise, mentally I had already started to focus on the off season and onto winter testing. Now it's quickly back to focusing on a race weekend," said Mawson.
"It's a great opportunity to be back in a car again and have a race meeting while learning a new track at the same time."
The British Formula 3 cars are of a similar specification to the machines Mawson has campaigned during the past two years, with the major difference being a larger powerplant and more aerodynamics.
"I've never driven the BRDC Formula 3 car before, although there are some things that will be familiar like the Pirelli tyres," said Mawson.
"It will be nice to drive a slightly faster car as I prepare for the next step in my career during 2017."
Jamie Caroline, who won a race at the final round of the British Formula 4 Championship, will be alongside Mawson in the Douglas Motorsport garage.
Mawson will head to England from his base in the Netherlands on Wednesday before hitting the Snetterton circuit for the first time on Thursday.
The weekend format includes a qualifying session and two races on both Saturday and Sunday. The grid for the first race is set in qualifying order, with starting positions for race two of each day set by the fastest laps from race one.
Live Timing from the event will be available by clicking here (link: http://www.britishf3.com/)