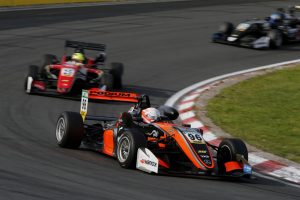 Australian Joey Mawson will head to familiar territory for Round Eight of the 2017 FIA European Formula 3 Championship at the Nürburgring this weekend.
Having competed at the venue on two occasions as a part of the German Formula 4 Championship, the PODIUM-backed driver is looking forward to returning to the 3.629km circuit.
"It's good to be heading back to a circuit where I have competed at before. I finished on the podium in the Formula 4, hopefully I can replicate that in the Formula 3 this weekend," said Mawson.
"We haven't done any tests there in the Formula 3 car, but I know the circuit and we have done a lot of preparation in the workshop to provide us with the best opportunity and a good result."
With the circuit being one of the tightest on the schedule, Mawson believes it is one that should suit the Van Amersfoort Racing outfit.
"We've struggled this year to get the most out of the car on the high-speed circuits, but have been pretty good on some of the tighter circuits," said Mawson.
"I'm continually learning on how to improve my driving and the team is continually working hard to improve the set-up of the car. We're not far off but in this Championship every little bit counts.
"The track is notoriously hard on brakes, so that is something we'll need to keep in mind. Because it is quite a short lap, there are limited passing opportunities, so qualifying well will again be very  important."
This weekend's event will be contested alongside a round of the DTM Championship. Practice for the Formula 3 drivers will be contested on Friday from 11:45am ahead of qualifying for Race One at 5:50pm local time. Saturday will feature Race One in the morning, and qualifying for Races Two and Three in the afternoon. Two races, one in the morning and one in the afternoon, will highlight Sunday.
WEEKEND SCHEDULE
LOCAL TIME
Friday September 8
11:45pm – 12:25pm Free Practice 1
12:30pm – 2:10pm Free Practice 2
5:50pm – 6:10pm Qualifying 1
Saturday September 9
10:45am – 11:20am Race 1
5:45pm – 6:05pm Qualifying 2/3
Sunday September 10
11:05am – 11:40am Race 2
4:55pm – 5:30pm Race 3
AUSTRALIAN EASTERN STANDARD TIME
Friday September 8
7:45pm – 8:25pm Free Practice 1
8:30pm – 9:10pm Free Practice 2
1:50am (Sat) – 2:10am Qualifying 1
Saturday September 9
6:45pm – 7:20pm Race 1
1:45am (Sun) – 2:05am Qualifying 2/3
Sunday September 10
7:05pm – 7:40pm Race 2
12:55am (Mon) – 1:30am Race 3