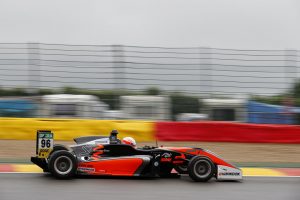 Australian Joey Mawson will gear up for the next challenge in the 2017 FIA Formula 3 European Championship at the Zandvoort circuit in the Netherlands this weekend.
With the PODIUM-backed driver residing less than an hour from the circuit, this weekend's round is a 'home' round for him and the Van Amersfoort Racing team.
"It's pretty cool to be able to have a home round for the team and have the track only 55 minutes from the team base," said Mawson.
"The Zandvoort round is very important for everyone in the team as we pretty much have every employee coming out to show their support across the weekend."
While it may be the closest circuit to Mawson's base, the strict testing restrictions means that he has only driven on the circuit on three occasions since moving to Europe three years ago.
"I have only driven at Zandvoort on three occasions, two of which has been test days in the wet and then one race weekend, but it's probably my second favourite circuit on the calendar.  It's a very old school type of track," said Mawson.
"It's very fast and we run a high downforce set-up which is really noticeable in the high-speed corners. Having so many high-speed corners is always challenging because there is no room for error, but this always separates the drivers a bit more.
"Overtaking is very difficult, it's probably the hardest circuit that we compete at to overtake on – even harder than Pau or Hungary. Qualifying well will go a long way towards a successful weekend.
"Hopefully the weather is good so we can have a really good atmosphere around the place and we can enjoy some good results."
This weekend's event will be contested alongside a round of the DTM Championship. Practice for the Formula 3 drivers will be contested on Friday from 12:30pm ahead of qualifying for Race One at 5:50pm local time. Saturday will feature Race One in the morning and qualifying for Races Two and Three in the afternoon. Two races, one in the morning and one in the afternoon, will highlight Sunday.